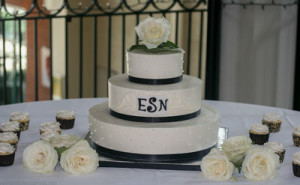 Wedding cakes have traditionally been symbols of prosperity, good luck and fertility.  They were initially made from wheat and broken over the bride's head to symbolize good fortune.  The bride and groom would first share a few crumbs then the wedding guests would gather the rest of the crumbs as tokens of good luck.  Today, the bride and groom cut the first delicious slice and feed each other to show that they nurture each other.  The meaning is the same even if the cake is smeared in the face!
Most couples want to relive moments from their wedding as they celebrate their first anniversary!    Cakes & Bakes offers a free keepsake cake which is completely separate from the wedding cake that is to be displayed at the reception. This frees the attendants and caterers from trying to guard the top tier during the reception to keep it from being eaten.  The separate keepsake anniversary cake is wrapped and boxed to protect from the elements while in the freezer.  To thaw the cake simply remove the box from the freezer and place in the refrigerator for a minimum of 24 hours then a few hours before you plan on eating the cake unwrap and let the cake get to room temperature before enjoying.
Skeptical about eating your anniversary cake, here is a message that one of our brides sent to us on her first anniversary.
"My husband and I just ate our wedding cake, and it was just as good now as it was last year! Thanks again for making the best cake ever!"
-Angela
Plan B
If the cake has been in and out of thaw and freeze state due to unforeseen event or power outage, it may not be a safe to consume.  You can always order the same cake flavor and filling just in a smaller version for the two of you to enjoy on your anniversary!
Happy eating!